About Bhartiya Computer Saksharta Mission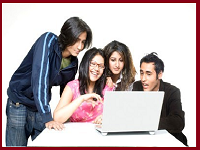 BCSM is a great institution that proves to be a Source of light for its student and guide/Trained them for their bright future in the years to come. It fulfills its goal to true manner by serving the society. The institution committed to reach the technology through the grassrool leave to the student and provide them excellent opportunity for placement & growth.

BCSM will fulfills its purpose in true sense by serving the society, irrespective of Caste, Creed, Color & Sex According to the hopes ,Cherished by our constitution & specially no thinking of self interest & material gains.
Our Vision
1) To achieve excellence in delivering quality education of global education of global standards, coupled with innovative practices using advanced technology & expertise, transforming the student community into potential global leaders with accountability to meet the social, national & dynamic Global challenges.

2) Support India to emerge as a knowledge society by identifying and nurturing the inner strength of youth and rural people, so that India can be transformed into a developed nation by 2020.
Our Mission
1) To encourage young & competent people to opt for social entrepreneurship in educational & Training sector and to bring the skill gap in India by offering skill based training at affordable cost.
2) To create & nature a learning and knowledge based environment, conductive to pursuit of Quality education Which would transform a socially responsible generation to act on their professional values & beliefs.
3) To bring about their overall personality development, fostering a caring & creative environment that emphasizes, Physical, social & intellectual development.
4) To instill a sense of understanding, remarkable resilience & enduring adaptation to diverse, competitive and dynamic society
Objective of BCSM

All courses fulfill the current need of corporate sectors and helps student for their requirements.


To produce technically & professionally trained student
Certification
Enhancing efficiency & personality
The technological knowledge
Prepare student for serving the society & nation as well
BCSM: Goals
We aspire at promoting education as a fundamental right. We also look upon, to improve the present quality of Education for effective grooming of competent & confident professionals who acts as leader of tomorrow.
We aspire to be an authoritative and independent voice, on promising good practices & policies that influence other students. We also want to be the leaders, in the fields related to the development of research and evolution. We also want to see ourselves as a responsive, effective and accountable organization.